CLICK HERE TO GO BACK TO THE CHARACTER DESIGN HOMEPAGE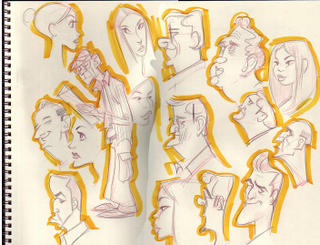 1. Tell me a little bit about yourself, about your life? Where did you go to school, and what classes did you study? What helped prepare you to become the artist that you are today?
I was born and raised in London, England and moved to
San Diego when I was 10 years old. I always have loved to draw. I drew for my high school news paper and loved drawing caricatures of people. I attended one year of a Jr. College and quit to start drawing caricatures at theme parks. This is where I studied. I drew from life constantly, and studied the artists of Mad Magazine and took life drawing workshops. This was the extent of my study.
2. How do you go about designing a character, and what goes through your mind, from start to end?
I start off designing characters with the simplest basic shape I can come up with. I approach design starting with the general shape to the particular elements. I am constantly thinking about contrast in shapes and angles. I pay close attention to construction and make sure I have a strong silhouette.
These are the raw basics in a nutshell.
3. What do you think really helps you out in
Designing a character?

Drawing from life a lot and observing. But the most
Important thing is to know "What's The Story"

4. From your own experience and maybe from some people that you know, what should we put in our portfolio and what should we not?

The most important thing to put in your portfolio is the one thing you love to do the most. i.e... Character Design, props, background design, storyboards. There is no need to be jack of all trades and master of none. Studios are looking to fill specific positions and want the best candidate they can find. Don't feel that you need to put in tons of life drawing. Putting 2-3 solid pages will be more than enough.
5. What are you working on now? (If you can tell us)
I can not say, but I am the lead character designer on a specific project at Sony Feature Animation.
6. Where is the place you would like to work if you had a choice?

Pixar, of course.
7. Who do you think are the top character designers out there?
Wow, there are so many, that I do not wish to name them just in case I miss out on some people.
8. How do you go about coloring the character, what tools do you use?
I either use Photoshop or Tria markers and colored pencil
9. What helps you the most in designing a character?
Knowing exactly what the character is all about. This to me is the most important.
10. What part of designing a character is most fun and easy, and what is most hard?
Designing any new character is fun, because it is a challenge. The hardest for me is realistic monsters and robots. Maybe because I am not passionate about them, that makes a big difference. If you love drawing specific things, those are often the things you will excel at.
11. What type of tools or media do you use?
Anything that has a tip on it works for me. I am a col-erase, hb pencil and Pitt brush pen kind of guy.

12. What wisdom could you give us, about being a character designer?
Practice, patience and determination. Don't neglect construction and drawing hands.
TO SEE MORE OF STEPHEN SILVER, AND TO BUY HIS WONDERFUL BOOK GO TO
http://www.silvertoons.com/silvertoons/
CLICK HERE TO GO BACK TO THE CHARACTER DESIGN HOMEPAGE